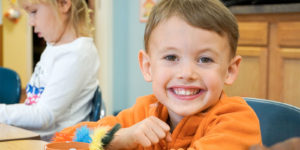 Pre-K1, Pre-K2 and Kindergarten
Students in our Early Childhood classes (Pre-K1, Pre-K2 and Kindergarten) are developing a sense of self within a community of learners. Nurturing teachers encourage independence and self-reliance in order for students to gain self-confidence and to be a contributing members of a group. Self-expression is important as students share their ideas and thoughts verbally as well as through art, music, writing and dramatic experiences. Thematic units incorporate children's literature, math concepts, science, art, music and social skills.
Early Childhood objectives for each student are:
• To cultivate a love of learning and discovery;
• To play and work cooperatively;
• To develop a caring attitude;
• To find support as emergent readers;
• To strengthen academic skills as readiness develops.