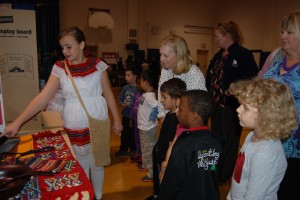 Yesterday – Wednesday, October 24th – was our annual World's Fair, in which FSMH middle school sixth and seventh grade students presented their research on countries from around the world.  Students were dressed in cultural attire and shared the history, background and geography of their countries   Using photos, handmade displays, digital presentations on iPads and their own knowledge, each student spoke with ease about their country, reflecting their weeks of research and hard work, under the guidance of Teacher Peter and the middle school faculty. The countries represented include a wide range of economic and cultural influences, including Egypt, Somalia, Ukraine, Iran, Madagascar, Rwanda and Austria. Lesser known countries were also reported on including the Comoros Islands, Timor-Leste and the South Sudan.  In addition to demonstrating their understanding of the country's language and food, students also discussed meatier issues such as the social and political challenges facing their countries. I listened in awe as they explained the impact of famine, the difficulty in developing natural resources, the negative repercussions resulting from years of war and the sense of hopelessness arising from natural disasters in their respective countries.
Tomorrow – Friday, October 25th – our eighth grade students will coordinate a mock UN session for the Middle School, furthering their understanding of complex issues including the war between Somalia and Ethiopia, the European bankruptcy crisis, the Middle East refugee crisis and the Education First Initiative.  It is an impressive next step in global awareness for these students as they further stretch their minds and their thinking to represent their country at these mock UN deliberation sessions.
To connect our learning to the world around us, I am reminded that earlier this week, the U.S. Presidential candidates had their final debate which focused on the topic of foreign policy.  After the debate, many news commentators lamented the overall lack of understanding among Americans when it comes to foreign policy and events happening around the world.  AT FSMH, our future voters are learning how to analyze and reflect on international circumstances, how to interpret the information presented and how to empathize with others whose culture and perspective may be completely different from ours in the United States. The depth in understanding I saw demonstrated by these young students at yesterday's World's Fair reminds me that our goal of helping students learn how to be a part of the global community is a good one.  They are beginning to make the important connections between themselves and the others around the world – an important connection that many adults do not understand.  What a difference this understanding could make in the future.