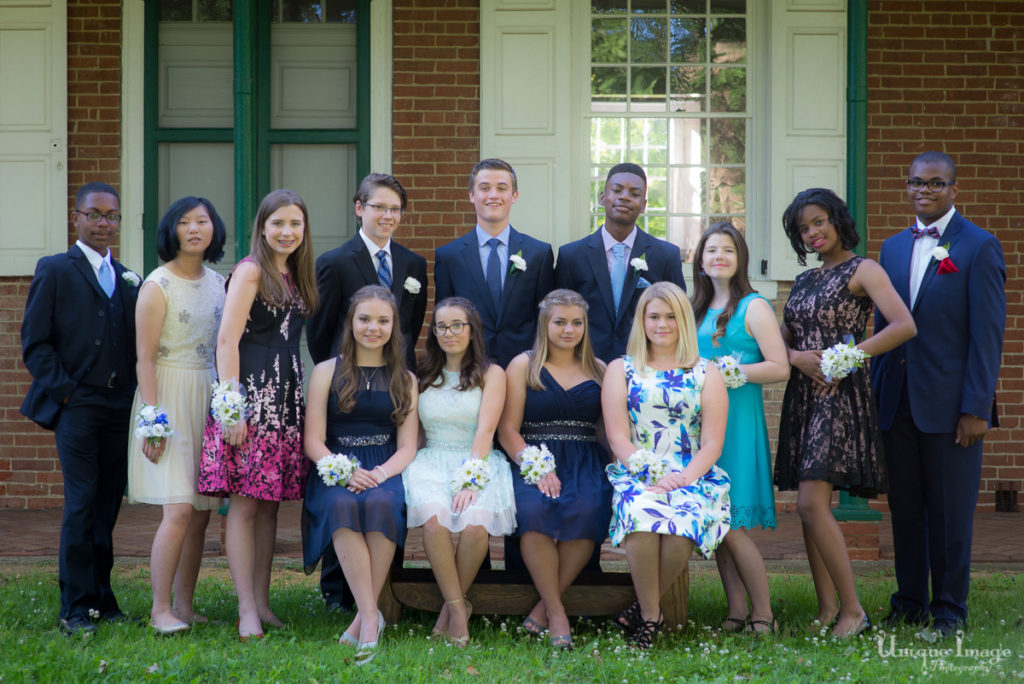 Friends School Mullica Hill, held its 43rd commencement ceremony on Tuesday, June 14th. The ceremony for the graduating 8th Grade Class of 2016 was held on the school's 13 acre campus. A welcome speech was given by Dr. William Carrigan, Clerk of the Board of Trustees and Chair and Professor of History at Rowan University. Carrigan's daughter, Julia, was among the graduating students.
Harrison Township Mayor Louis Manzo also spoke, reminding families of the strong civic foundation at Friends School Mullica Hill, whose students earlier in the year made news for lowering the speed limit in front of the school. Additional speakers included Head of School Dr. Beth Reaves, Spanish teacher Sophie Ragone ('01), 2012 alumnus Emily Herman, and 7th graders Emily Karpowicz and Michael Wolfe.
As part of the commencement ceremony, each graduating 8th grader gave a speech on the importance and meaning of their experience at Friends School Mullica Hill. The students also thanked their families, teachers and the school for its support and opportunities they provided. The graduates will be going on to a diversity of regional schools, including The Tatnall School, George School, Bishop Eustace, Gloucester County Institute of Technology, St. Augustine Prep, Friends Select, Clayton High School, and Wilmington Friends.
Below are some deep and heartfelt quotes from these incredible 8th grade about the impact their education at Friends School had on  them:
"This environment helps students find their niche in the world. My journey here has enabled me to grow academically, spiritually, and personally… Now I have found my voice and have the confidence to share my thoughts." – Daniel
"I have changed through the years, yet I'm still the same person that I was in 3rd Grade. It's been a crazy adventure at Friends School." –Shannon
"The Quaker environment here is supportive, loving and kind." – Julia
"My Class is not just a Class to me, they are my family. I have a special bond with every single person. We share a bond that cannot be copied." – Victoria
"This Class has created so many memories that I will keep throughout my life." – Arden
"In our Quaker community, I learned to treat people with respect and to care about people. I also learned how to be a role model and to set a good example for others kids to follow." – Noah
"The Friends School community has given me so many opportunities to flourish. With the small class sizes, and amazing teachers, Friends School provides the best experience a student can ask for." – Josh
"I remember starting here as a quiet girl who was afraid to raise her hand, and didn't have many friends. Being here, I learned to stand up for the things that I believe in and to stand up for others. I have learned to feel more confident in myself and to help others feel confident." – Marina
"I learned that the valuable school experiences I have aren't just academic, but they mainly consist of people who help me and I enjoy being with." – Arley
"Being a part of Friends School has given me the opportunity to apply the Quaker values into my life and work… As I head into the next stages of my life, I will continue to apply my Quaker values." – Caroline
"I will miss Friends School. I'm going to miss walking through these halls and being able to call everyone by name, and being greeted at the front door every morning when I walk in." – Emily
"Even though we are all going our separate ways, I will never forget how much you all mean to me, and how you've helped me grow as a person and a friend." – Marissa
"My memories here have left a mark on me. They've changed me in a very positive way because I've learned the importance of having a close and strong community." – Grayson