Do you want to see an eagle sitting on its nest? The Cometz family (Sophie – 8th grader) shared with me that there was an awesome, easy viewing bald eagle nest at Riverwinds in West Deptford. So I checked it out this last weekend. If you have never seen a nest, this is a good one. At the end of the long drive into the Riverwinds complex you will see the golf course on your right. Just past the golf cart crossing area look to your right and you will see a little dirt road. Look up in the big tree and you will see the nest (a big pile of branches) with an adult eagle probably sitting on the nest. I recommend park in the parking lot on the left – much safer. Remember, it isn't until the fourth year that eagles get the white on the head and tail. Also remember that when eagles fly their wings are straight and not in the v-shape like the turkey vultures. If you can bring a pair of binoculars you will get an even better view. Enjoy the spectacle! Your son or daughter will be fascinated!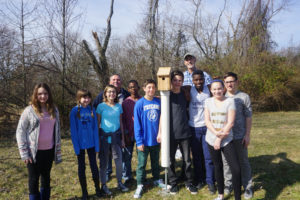 The 7th grade has just put together five bluebird boxes stands around the Friends School campus. With the help from Teacher Jim and Dave Gilcrest (local man who is part of the NJ Bluebird Society), 7th graders constructed the stands with predator poles to prevent raccoons and snakes from getting to the eggs. Bluebirds are cavity nesters and have struggled to keep their populations at a growing rate (habitat loss). I have been seeing eastern bluebirds perched on the banners near the play area and on the metal fence by the playing field. They are around. We are hoping our nest boxes will be helpful to these birds. 7th graders will be monitoring these boxes each week this spring and into early summer. Outdoor Learning (ODL) students are excited about this citizen/science project right outside their classroom. You'll hear more about this project as we move into the spring time. Special "thanks" to Teacher Beth for supporting this project.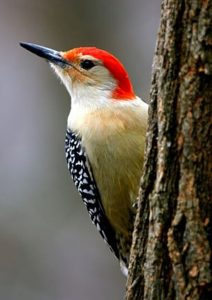 Thanks to those families that participated in the Great Backyard Bird Count (GBBC). I had some great viewing at my feeders at my house. We had a couple hundred robins in one big flock land in my neighbor's yard. It was quite dramatic. The red-bellied woodpecker was spectacular with that vermillion red on its head and nape! This citizen/science project is important in documenting bird populations and movements. We'll do it again next year.
One of the ODL classes discovered a full deer skeleton (minus the skull) in the woods last week. We have scrubbed the bones and soaked them in peroxide and then a bit of Clorox. They are white and ready for a more close examination. At first we weren't sure what creature these bones belonged to. However, on a following day, students found the lower jaws and confirmed it was from a white tailed deer. ODL students will be examining the bones more closely and try to put them back in order! That will be interesting.
Lastly, I am off to Costa Rica for a week with some of our 8th graders, T. Erica, and T. Beth. It is a great trip and I highly recommend it. This year we are going to stay on two farms – one will be in a cloud forest! Some of you know that I used to live in Monteverde (Quaker community settled in the early 50's). It is always special for me to stand in the cool, moss laden cloud forest listening to the tropical bird calls and feeling the mist surround my body. So we are off the practice speaking Spanish, learn about a new country, and to have a unique experience with fellow classmates! Priceless! We will return with stories and memories to share with all of you.
This was post by Teacher Peter Manzelmann as part of an ongoing series of educational nature posts.