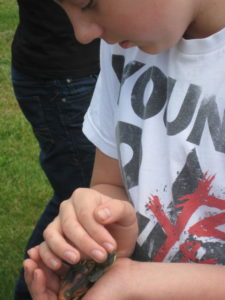 by Teacher Peter
The Friends School 7th grade purchased five nesting boxes, constructed barriers for predators , and erected them across the school campus.  Two of the boxes were successful with bluebirds.  The other three boxes had activity from chickadees, house wrens, and tree swallows.
Total number of boxes –  5

Total number of boxes with bluebirds –  2

Total number of bluebird eggs laid –  16

Total number of bluebirds fledged –  12    Hurray!!!!
Other info on other birds using the boxes:
Box #1 – At first there was a chickadee nest. A house wren chased the chickadees away and built a nest right on top of the chickadee nest.  Later in the summer, tree swallows made a nest but resulted in no fledglings.
Box #2 – Tree swallows – three eggs.  Two fledged.  House wren made a nest later in the summer.
Box #3 – House wren nest – five eggs resulted in five fledglings.
This was a wonderful experience for our students and for the entire Friends School community. We made a difference in bringing to the world twelve more bluebirds!
Thank you, Dave Gilcrest, for your time and expertise in getting our bluebird trail up and running (flying?).  Go bluebirds! We look forward to the 2018 season.