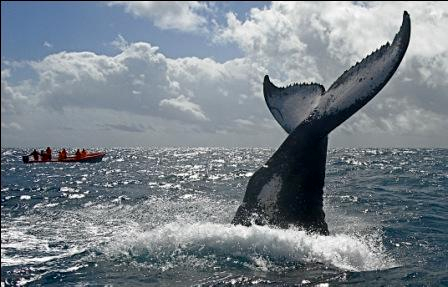 As we walked to the Heritage Plot and the newly constructed Adventure Course, I stayed behind the group of 8th grade students as they interacted in their separate social groups and happily bounced, jogged, chatted and gossiped their way to the woods.  As we entered the quiet shade of the forest we approached the first challenge of the year, Whale Watch.  I explained to the students that they would be boarding a boat for an adventurous day of whale watching and sea-faring fun.  I then turned the vessel over to the crew…
The sailors boarded the boat from the port side of the vessel and made sure that all members had a good viewing spot on the boat while keeping the vessel perfectly balanced to avoid capsizing.  The crew spotted a whale on the starboard side of the vessel and quickly moved to figure out how to maximize the amount of crew that could view the magnificent mammal.  Another pod of whales was spotted off of the port stern and the crew quickly worked together to make sure all could view the creatures without capsizing and sinking the ship.
Suddenly the communication systems on the ship shut down and the only person who could control the crews' movements was Captain Charlie.  He quickly took the helm and righted the ship making sure that the crew returned to port safely and with fun stories to tell from their day of whale watching.
As we returned to the Noel-Baker building I again walked behind the 8th grade class as they talked together about the successes and failures of the mission.  They had seemed to come together as one social group and unit upon our return to campus if only for our brief walk back.  With more fun adventures on the horizon I reflected on the progress the group made that day and looked forward to the class coming together again on our next mission.
T. Shaner Brown