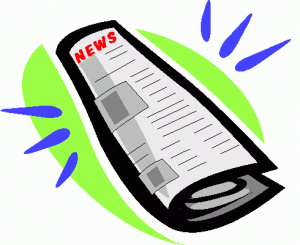 On Tuesday morning I visited one of our classrooms as students shared the current event photos they selected from a newspaper at home.  Their topics of choice included:
+ a photo of a corn field shaped into the faces of the presidential candidates
+ the short life of a recent panda cub at the National Zoo
+ two different military-style funerals for fallen soldiers and police officers
+ photos taken with a camera stolen by a seagull
+ a photo of  pop singer Carly Rae Jepsen (including a very short rendition by the student of "Call Me Maybe")
It was an accurate snapshot and reflection of what we see in the news every day.  As the students gave a short introduction to their newspaper photo and described the story behind the photo, it was interesting to hear their young point of view.  And while many of us still get nervous standing up to talk in front of others, these students stood up one by one and presented their topic.
Did I mention this was a Kindergarten class?
T. Ruthis, our Kindergarten teacher regularly provides opportunities like these to her students to have both the opportunity to reflect on current events in the news, but also to develop the self-confidence needed for public speaking in the future. It is an important skill building exercise that helps each of these students grow each week … on Tuesdays and every school day!