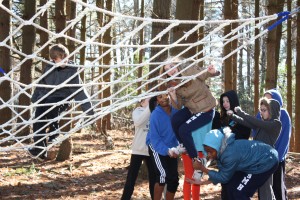 "The ability to work effectively and creatively with team members and classmates regardless of differences in culture and style is an essential 21st century life skill" (Trilling & Fadel, 2009).
A learning experience for a student can be enhanced and even deepened by working with his or her peers.  Through their interaction with each other, students test ideas and form opinions.  They solidify their own understanding when they are able to answer questions and provide insightful instruction to their peers, helping them to learn.  Working with peers also helps students to develop the interpersonal and communication skills needed in their higher education and beyond.  In the real world, we work with others who often think and understand differently than ourselves.  We sometimes have to compromise in order to get along.  We understand that the accomplishments of the group are sometimes greater than what could be done as an individual. Collaborative learning can demonstrate these lessons.
A recent visit to one of our Lower School science classes demonstrated this collaborative learning in action.  The science lab that day focused on the students' study of earthworms and their reaction to various stimuli.  As each lab group went through the process of exposing the earth worms to various factors, the conversation within the lab groups explored their predictions, personal experiences, and understanding of natural reactions of earthworms. As the lab continued, some donned gloves to touch the earthworms, while others did not want to actually touch them.  But yet they asked "What did it feel like?" and their lab partners provided descriptions. As the questions continued, the students shared their own viewpoints and insight with each other, providing details on what they each saw with the earthworm. As T. Glenn moved around the room answering questions and providing instructions, the conversation continued as the groups tested their hypotheses and collectively arrived at their conclusion at the end of the lab.  The final reflections from each group then encompassed their collective experiences – and allowed each student to see beyond their own initial perspective.
Why collaborate? Because it makes us better learners.