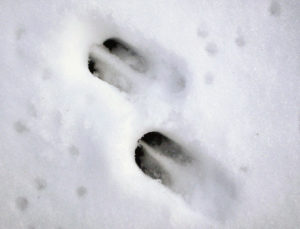 by Teacher Peter Manzelmann
As I look out my window this morning, I can see big drifts of snow piling up against our house windows, huge flocks of grackles bombarding our bird feeders, and lots of snow blowing in the wind! Thank goodness we have a snow day because the roads are terrible and a perfect day to share a few thoughts about our winter wonderland.
A couple weeks ago while I was taking this trimester's Outdoor Learning (ODL) classes (Kindergarten, 5th and 7th grades) for a walk in that recent snow. We noticed lots of animal activity due to the tracks in the snow. One of the students commented, "Wow, I never realized we had so many creatures on our campus!" There were tracks of deer, feral cat, birds, raccoon, gray squirrel, and some other mystery marks (possibly a red fox). Often we think that nature is on hold during times like these, but the blanket of snow tells a different story. The covering of snow becomes a text filled with anecdotes and messages.
As the ODL classes walked along the edges of campus, we began to identify the tracks using clues of habitat, track pattern, and any other auxiliary signs. The gray squirrel has "four-print" tracks leading to or from a tree. Some cracked nuts were also helpful as auxiliary evidence. The red fox, one of my all-time favorite creatures, leaves a doglike paw print in a straight line usually across open fields or on the edges. Each print is rounded and may have impressions from footpads and toenails. The four-print track of a hopping cottontail looks as if it were put together backwards. The two side-by-side marks from the rabbit's large hind feet come first, showing where the animal landed. Just behind come two smaller front footmarks, indicating where the rabbit pushed off. You can often find gnaw marks on the trunks of trees or shrubs. The white-tailed deer leaves the familiar sharp-pointed, heart-shaped track. Take a walk and discover for yourself how winter is an excellent season for reading the daily wildlife news written in tracks!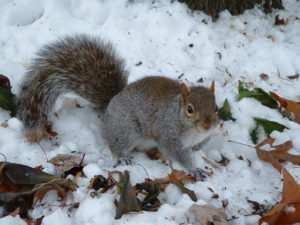 The birds have been going crazy at our bird feeders during this very cold snap of winter that we have been experiencing. It seems that I am refilling the feeders in the dark upon my daily return from school. It is the birds but it might also be the agile gray squirrels that often funnel the food into their mouths when we are away or not paying attention. Those buggers! I have been rubbing Vaseline on the feeder pole. It seems to be working okay as a temporary prevention. The rewards of watching the variety of winter bird feeding are awesome. Check out my previous blog on recommendations for setting up a bird feeding station at your home.
Have you been hearing the "Lord of the Winter" in your neighborhood? We have. The great horned owls were hooting last month. These owls begin their courtship in the dead of the winter, pairing and eventually settling down in the abandoned nests of squirrels or large birds. Males and females declare their affection in hooting duets, and though the male is smaller, he can be identified by his deeper voice. Owlets hatch from their eggs in deepest winter after a month. Please let me know if you hear owls in your backyard.
Enjoy the winter. I am off for another cross-country ski in my neighborhood before the snowplows come by.