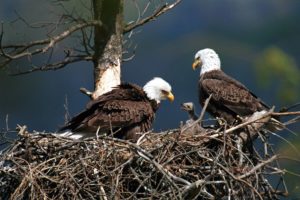 This past weekend my wife Mary-Ann and I attended the 17th Winter Eagle Festival in Mauricetown, Cumberland County. Friends in past years have said, "Oh, you'll love the Eagle Fest." Well, we did! It was an active, crowded scene at the Mauricetown firehouse with nature/wildlife vendors, nature clubs, informational booths, and live raptor demonstrations (screech owls, great horned owl and red tailed hawk).
There were speakers from Audubon, NJ Fish & Wildlife, and Conserve Wildlife sharing info on ospreys, hurricane recovery at Edwin B. Forsythe Refuge, and on the relationship between bird watching and deer hunting. In addition to all of that, we were given a map with specific sites to view raptors and eagles in that area. These sites are notorious for excellent birding – East Point, Dividing Creek, Fortescue, Money Island, and Newport. In just a couple hours we viewed 42 bald eagles. Yes, 42 big, stately national birds! Some were even just a few feet away!
Resident and northern eagles/raptors gather in our region during this time of year since our weather is a more mild and there is plenty of food (fish and rodents). While doing the crosswalk duty I have seen eagles fly right over Friends School. I love it! South Jersey, particularly the Delaware Bay Shore, is remarkable when it comes to the natural world. Don't hesitate to explore. Wonderful and spectacular surprises are all along these back roads that lead to and wind through our Bay Shore and coastal marshes. You'll be refreshed and filled with stories of nature sightings. Go for it and explore! Yes, 42 bald eagles!
Recommendations: The Mannington Marsh area (between Woodstown and Salem) has great birding all year. Check out the big eagle nest. Last year we spotted two sandhill cranes doing a courtship dance in the cornfield in that area. Also off of Rt. 130 in Repaupo take Floodgate Rd. past Bridgeport Speedway to the end. Park and walk the dike going north. There is a great view of Delaware R. and waterfowl and some eagles.
This blog post was by Teacher Peter Manzelmann, as part of an ongoing series of posts exploring the natural world.