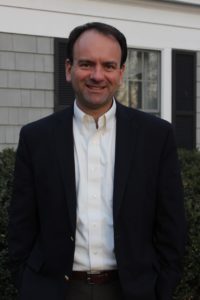 Friends School Mullica Hill is pleased to announce Matthew Bradley, current Head of East Woods School in Oyster Bay, New York, as its new interim Head of School. Bradley is a former member of the Board of Trustees and brings decades of experience as both an administrator and educator.
"Matt is well known to many of us here as a former Trustee where he had an impressive record of service to our community," stated William Carrigan, Clerk of the Board of Trustees. "We are fortunate that his family has decided to return to the Philadelphia area and he has agreed to serve as interim Head of School."
As the former Head of School at West Chester Friends School for over a decade, Bradley has a wealth of experience working with Quaker schools, including serving on the Board of Directors and Finance Committee of Friends Council on Education. He received a Bachelor of Arts degree from University of Notre Dame and a Master of Arts in Curriculum and Teaching from Teachers College, Columbia University.
"I have had a great affinity for Friends School Mullica Hill from my prior connection to the school, and have also followed the school's continued growth under Beth's thoughtful leadership these past several years," said Bradley. "It is clear to me that this is a nurturing learning community that carries out its mission not only to educate students, but to help them grow into caring stewards of the world around them. This is exactly the kind of school in which I feel most at home, and I am honored to have been asked to lead Friends School Mullica Hill as Interim Head of School."
The outgoing Head of School Beth Reaves will be moving on to be President of the Washington School for Girls in Washington DC. "I have been honored to serve as Head of School these past several years," said Reaves. "Friends School Mullica Hill is a special place where the focus is on the children and their learning is always at the forefront. It is a school of exceptional teachers that support the growth of children to ensure they are well-positioned for high school."
Matthew Bradley will assume the position of interim Head of School beginning in the summer in preparation for the coming Fall 2017-2018 school year.